The Inside Scoop on Working as an Account Manager at Experian
For Amber Banks, Experian's reputation is just one of the many reasons she loves what she does as an account manager of Consumer Information Services (CIS). After a year with the organization, she continues to enjoy the strong connection she has built with her team in Schaumburg, Illinois. The amazing company perks are an added bonus! Read on to see what else Amber had to say about her career journey with Experian, her specific role and more.
What do you do at Experian?
I am an Account Manager within CIS. I manage hundreds of accounts across every industry and product group that Experian offers to cross sell, which will further benefit my client's bottom line revenue.
What makes you want to stay at Experian?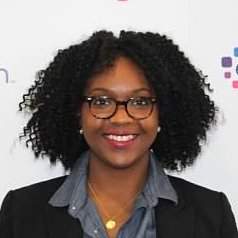 What makes me stay at Experian is the strong connection that I share with my team. I enjoy coming to work every day because I enjoy the atmosphere within the Schaumburg campus. In addition, Experian is a large, internationally renowned company that is connected through almost every industry. The connections and knowledge that I receive here will be able to secure my future indefinitely.
What is the best part of your job that you wouldn't find in a job description?
Employees have an opportunity to connect with people with all different types of backgrounds and resources whether it is through their current job, their previous roles or the industries they service. The knowledge that a group of people have is extremely diverse.
Is there a benefit offered by Experian that has been particularly helpful to you?
Experian's $150 fitness reimbursement and gym on campus is a plus. Also, the walking challenges and healthy roads gift cards are a unique incentive to keep moving and stay healthy!
You've got a day off work! Where can we find you?
You can catch me assisting a close friend plan a wedding or another luxurious event. You could even find me practicing a Miles Davis jazz piece on my trumpet! I enjoy exposing myself to new adventures and skills whenever I have free time.
If you're looking for a one-of-a-kind career opportunity that allows you to work alongside thought leaders and innovators across all levels of experience, look no further than Experian! Explore our unique opportunities and join our team today!